What is Financial Literacy?
Financial Literacy is the ability to understand and use financial skills like money management, budgeting, and investing to make intelligent financial decisions.
Why is it important?
Financial Literacy is important because it allows an individual to maximize the income he or she earns and greatly improve his/her life.
AND IT'S ALSO IMPORTANT THAT STEPS TO GAIN FINANCIAL LITERACY START EARLY IN ONE'S LIFE.
GreenPath is a resource and online tool center that helps support financial wellness and literacy. On the GreenPath site, you'll find articles, webinars, and classes with budgeting tips, frequently asked questions, and more.
Check out the online calculator tools for: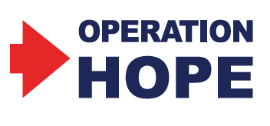 Operation Hope is a nonprofit organization working to disrupt poverty and empower low to moderate-income youth and adults.
Operation Hope offers programs:
Several banks and local organizations in Central Georgia offer scholarships and programs to help adults and youth make better financial decisions for the future. Check out some of these programs below.
Robins Financial Credit Union
Financial Education
Robins offers a FREE financial education course - It's A Money Thing Academy for young adults to manage their finances.
Scholarship
Scholarship for High School Seniors attending Georgia College or University:
The scholarship is a 1-year, $2,000 scholarship that is paid directly to the student's college or university.
This scholarship is a 1-year, $2,000 scholarship that is paid directly to the university or college that the student is attending.
Scholarship information and guidelines:
Scholarship Deadline: Typically March of each year
Your completed application must include:
•    Completed Scholarship Application
•    College Acceptance Letter (From a college or university in the State of Georgia only)
•    Copy of your most recent high school report card to include your cumulative GPA (Does not have to be an official transcript)
•    Copy of a complete FAFSA Student Aid Report or a completed copy of parents' previous year Income Tax statement (Entire report or return is required)
•    An Achievement/Activities Form (Must be completed on the form provided, in the space provided. Additional pages, resumes, or portfolios will not be considered.)
•    Two Letters of Recommendation (Must be written by non-relatives. Please remove letters from envelopes to include in packet.)
•    One Page typed essay answering the following questions: What does financial responsibility mean to you and how do you manage your finances? How will receiving your college degree help improve your financial future and how can Robins Financial Credit Union help you achieve your financial goals?
 
Good Grades Program
Robins Financial Credit Union knows that a successful future starts in the classroom. Twice a year (January & June), Robins Financial awards three students with $500 in cash for maintaining good grades during a semester.
There will be 3 winners – 1 at the middle school level, 1 at the high school level, and 1 at the college level.
You must have a 3.0 GPA and be a member of Robins Financial Credit Union to be eligible. If you are selected, you will be required to supply a copy of your grades for verification.
Youth Programs
Rockin' Robin
Rockin' Robin accounts are designed for kids up to 12 years old to teach good financial habits early. Open a Savings or Certificate for your child and watch their savings grow!
My$ta$h
My$ta$h Checking allows kids 12 to 15 years old the opportunity to learn important money management skills in partnership with their parents.
MyMoney MyWay®
MyMoney MyWay® Accounts are for those ages 16-26 and include checking, savings and Visa® Credit Card options
---
MidSouth Community Federal Credit Union 
Apps to teach Financial Literacy to children
It's never too early to teach kids the fundamentals of money management. And using apps for smartphones and tablets can make learning fun. Here are six widely recognized apps available to provide youth with the basics of financial literacy:
Bankaroo (5 – 14 years) – This bilingual (English/Spanish) app serves as a virtual bank for kids – helping users to manage their allowance, gifts and chore money without being tied to an actual bank account.
FamZoo (13+ years) – This app features a collection of prepaid cards for the family that are linked by the app where users can manage the family's spending, saving, donations, allowances, chores, budgets, goals, loans and more.
Piggybot (4 – 6 years) – A parent-designed, kid-tested allowance app that helps kids spend, share and save in a smarter way.
Savings Spree (7+ years) – This app allows kids and teens to earn, spend, donate or invest imaginary money in a game show format.
The Game of Life (4+ years) – An e-version of the popular board game, players are encountered with critical life decisions where they may have to choose between investments such as paying for college or purchasing a home.
Visa Financial Football (4+ years) – An exciting NFL game puts players' fiscal knowledge to the test by combining football game play with financial questions in a challenging and educational experience.
Teaching youth how to make smart decisions about money from an early age can help ensure they achieve a financially responsible future. In addition to using fun apps, simple and routine money conversations between parents and children can help foster their future financial success.
---
Cadence Bank
To a child, money is often an abstract concept, especially in a world of direct-deposit paychecks, debit cards and peer-to-peer payments. Even if your son or daughter gets an allowance, their understanding of money is probably fuzzy beyond knowing what they can buy with their allotted weekly amount. He sees you buy gas at the pump or groceries at the store with a plastic card. She sees you deposit your checks via smartphone, or hears you say that you're paying bills online, but that's abstract, too.
Unless you teach them, children have no idea that electricity, water, Wi-Fi, cellphones, television, gas, car insurance and taxes take actual cash out of your pockets.
Suggestions on how to talk to children about money based on their age
Ages 3-5: We need money to buy things; we work to earn money; we may have to wait for something we want to buy; the difference between want and need.
Ages 6-10: We make choices about how to spend our money; we pay less when we compare prices; we shouldn't share any information about money online; having a savings account keeps our money safe.
Ages 11-13: We should save at least 10 cents of every dollar we get; entering information about money or credit cards online is dangerous because other people can steal the information; a credit card represents a type of loan that must be paid back; our money earns more money if we put it in savings and keep it there (compound interest).
Ages 14-18: Colleges are expensive, and the cost helps inform the choice of school; we get in trouble if we use credit cards to buy things we can't afford; when we get paid for a job, we lose money to taxes; IRAs increase it for when we are older.
Age 18 and over: Credit cards need to be paid off in full every month or we pay interest and penalties; we all need health insurance, and must pay for it; in addition to savings, we can earn money by investing, but there is some risk involved; before choosing to invest in stocks or bonds, we must consider both those risks and the annual expenses of the investment.
One last tip? Don't prevent your child from making his or her own mistakes; it's how we learn real lessons about money.
You can teach your child about money with jars and allowances, chores, and careful spending. But don't neglect to let your child learn the hard way. Aboutsmartmoney.org recommends not bailing out your child if they spend their entire allowance on the day they receive it. Point out the mistake and let them figure out that not planning has its own consequences.
---
Wells Fargo
Hands on Banking
All the tools you need to help you become financially savvy.
The Hands on Banking® financial education program can help you learn more about money management. If you are unsure where to start, click here for resources that will be helpful. Together, we'll help you and your family take charge of your financial future.
This program features topics on:
Credit and Loans
Debt
Money Management
Retirement
Small Business
Taxes
There are different phases in your financial journey. From Getting Started to Planning For the Future, the Hands on Banking® program can help you take control of your financial future in any stage of life.
---
Click below to find resources for teachers and educators from MyMoney.gov to teach financial concepts to children and adults.
---
FDIC Money Smart
The FDIC's Money Smart financial education program can help people of all ages enhance their financial skills and create positive banking relationships. 
Click here to find out more about the Money Smart Program or to join the Money Smart Alliance.